Treating Sports Injuries in Southern Pines, NC
What Is A Sport Injury?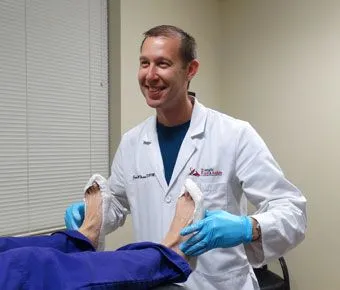 Sports injuries to the foot and ankle keep your podiatrist at Triangle Foot and Ankle Specialist in Southern Pines, NC, busy. Dr. Jeremy Thomas sees scores of amateur and professional athletes who need to restore their feet and ankles to normal form and function and to be as comfortable as possible in their daily, and sports, activities.
Why do feet and ankles take a beating?
Think about it. Your feet and ankles carry you everywhere. Then, add the stresses and impacts of sports training and participation, and you have a recipe for injury. The foot itself has 26 bones, all connected by ligaments and tendons. Trauma to the foot and ankle, hard training surfaces, poor physical conditioning and warm-ups, repetitive motions and improper foot wear increase the chances of podiatric injury for the athlete.
Common sports injuries
The American College of Foot and Ankle Surgeons reports that the ankle sprain is the most frequently-occurring sports injury. Involving tearing and overstretching of the connective tissue, ankle sprains present with swelling, bruising and pain. Most resolve well with rest, bandaging and ice. However, severe or repetitive sprains can result in ankle instability and the need for surgery.
Your foot doctor also helps patients dealing with stress fractures in his Southern Pines, NC, office. This minor cracking of the bones of the foot or ankle typically results from overuse, poorly supporting footwear and resuming a sport too soon after a previous injury.
Also, heel spurs, plantar fasciitis and Achilles tendinitis happen with the repetitive motion of sports which involve bouncing and jumping--dancing, volleyball and tennis as examples. While these conditions usually do not require surgery, rest and ice do help, along with non-invasive strategies such as shoe orthotics to correct gait problems, physical therapy, over the counter pain medications, stretching and physical therapy.
Finally, have you heard of Morton's Neuroma? It's a benign thickening involving the nerves and metatarsal bones at the ball of the foot. Rest, pain medication and wide, more cushioned shoes help the mostly female athletes who develop this painful problem.
Dr. Thomas can help
If you suffer an acute sports injury, or have concerns about recurring pain and other symptoms in your foot or ankle, please contact Triangle Foot and Ankle Specialist for a consultation. Dr. Thomas will examine you, do specialized imaging as needed, and tailor a treatment plan to get you moving comfortably again. Call our office at (910) 757-0058!